Chainlink (LINK) has undergone a strong bounce since the lows under $8 it set in September. The leading cryptocurrency currently trades for a price around $11, almost 50% above those lows.
Despite this recovery, not everyone thinks it will last. An eerie fractal suggests that the cryptocurrency could drop towards $6 in the coming weeks.
Chainlink Will Soon Plunge Further, Fractal Suggests
One crypto-asset analyst recently compared Bitcoin's price action in 2017 and 2018 to LINK's price action over recent months. After lining both charts, he found that LINK's price action is following that of BTC's to a T, with both periods having a similar market structure.
This fractal analysis predicts that LINK is likely to plunge into November, bottom in mid-November, then recovery in December. If the fractal plays out perfectly, Chainlink will fall under $6 come American Thanksgiving.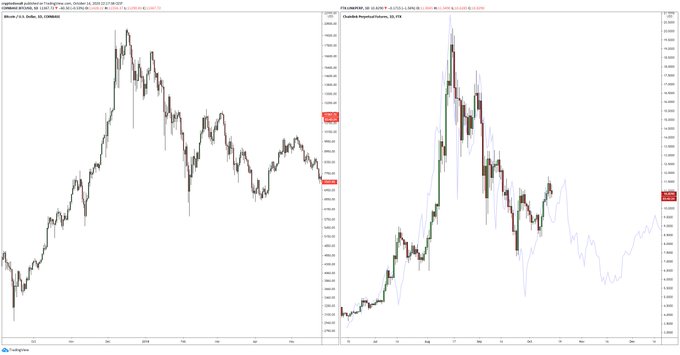 Chart of LINK's price action vs. Bitcoin's price action with analysis by crypto trader Crypto DonAlt. Source: LINKUSD from TradingView.com
The expectations of a strong correction aren't widely shared. One crypto-asset analyst, Michael Van De Poppe of the Amsterdam Stock Exchange, recently stated that the asset could consolidate on a macro scale in the months ahead, not plunge:
"LINK… Still the same view on this one. Expecting a further accumulation period on this one too, just the same as the previous impulse wave. Clear resistances at $12.35-12.50 and $13.75-14.00. Long areas at $10 and $8.75-9.00," he said.
Image Courtesy of Crypto Michael. Source: LINKUSD on TradingView.
Crucial Fundamental Developments
While the technicals show that LINK has a neutral to bearish outlook in the medium term, the Chainlink project has been seeing a series of positive news events.
The project reported at the start of the month that it is now responsible for helping to secure the $1 billion+ worth of Bitcoin backing the Wrapped Bitcoin in circulation.
"To boost the transparency and auditability of Wrapped BTC (WBTC), the most liquid and utilized wrapped form of Bitcoin in the market, BitGo has adopted Chainlink's Proof of Reserve mechanism. Now live on testnet (and soon mainnet), this Chainlink functionality enables decentralized applications on Ethereum to fully automate the burden of auditing the BTC value custodied by BitGo, in a trustless and censorship resistant manner, removing the need to rely on manual off-chain processes like reading audit reports."
WBTC's $1 billion+ in Bitcoin will now gain additional security using #Chainlink's Proof of Reserve capability. We're thrilled to be working with @BitGo to enable greater transparency & therefore more usability for WBTC as a form of collateral across #DeFi:https://t.co/Zd53kmLYZ5

— Chainlink – Official Channel (@chainlink) October 1, 2020
This is the latest fundamental development that boosts the value of LINK and Chainlink itself.
Featured Image from Shutterstock
Price tags: linkbtc, linkusd, linketh 
Charts from TradingView.com
Eerie Chainlink (LINK) Fractal Predicts a Drop Towards $6