The common narrative shared over recent months is that Bitcoin is adversely affected by increases in the value of the U.S. dollar. Case in point: when the dollar began to spike in February and March, BTC began to tumble lower, as did the S&P 500 and the price of gold.
More recently, when Bitcoin topped in August, the U.S. dollar was in the middle of a dead cat bounce.
But over recent days and weeks, the two markets have begun to disconnect. Bitcoin has somewhat flatlined as the U.S. Dollar Index (DXY) has undergone a strong 1-2% bounce.
An analyst says that the ongoing disconnection between these two markets could be a sign that BTC is poised to surge higher.
Bitcoin Rally Could Soon Come Despite U.S. Dollar Bounce
While the U.S. dollar is moving higher, an analyst thinks that Bitcoin may be on the verge of a strong move higher.
He shared the chart below on September 22nd. It shows that the last time the U.S. dollar showed strength and Bitcoin didn't immediately dump, the cryptocurrency proceeded to surge parabolicly.
Commenting on how this trend could mean BTC soon rallies, the trader said:
"The $DXY is showing strength & $BTC isn't dumping? Did we see this before? Yes, before the rally towards 20K in 2017. Same dollar value, same price action from both & same behaviour from both. Good example of the correlation not always playing out."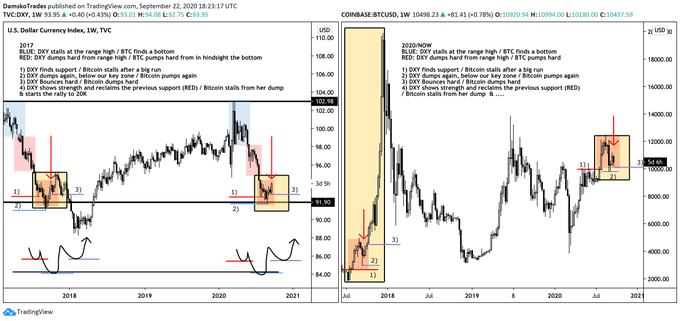 Chart of the U.S. dollar's price action and Bitcoin's price action over the past three years with analysis by crypto trader CryptoAmsterdam (@damskotrades on Twitter). Chart from TradingView.com
Will the Dollar Really Plunge Lower?
Many aren't convinced that the U.S. Dollar will resume its crash, thereby enabling Bitcoin to run higher.
One trader shared the chart below just recently, showing that the DXY has room to scale higher despite already gaining over 2% from the recent lows:
"There is a lot of room to move up on the $DXY. That bullishness in conjunction with #Bitcoin looking like ass makes me think we will be fulfilling that CME gap fill narrative. We might get a bounce from where we are now but ultimately I expect that low to get run."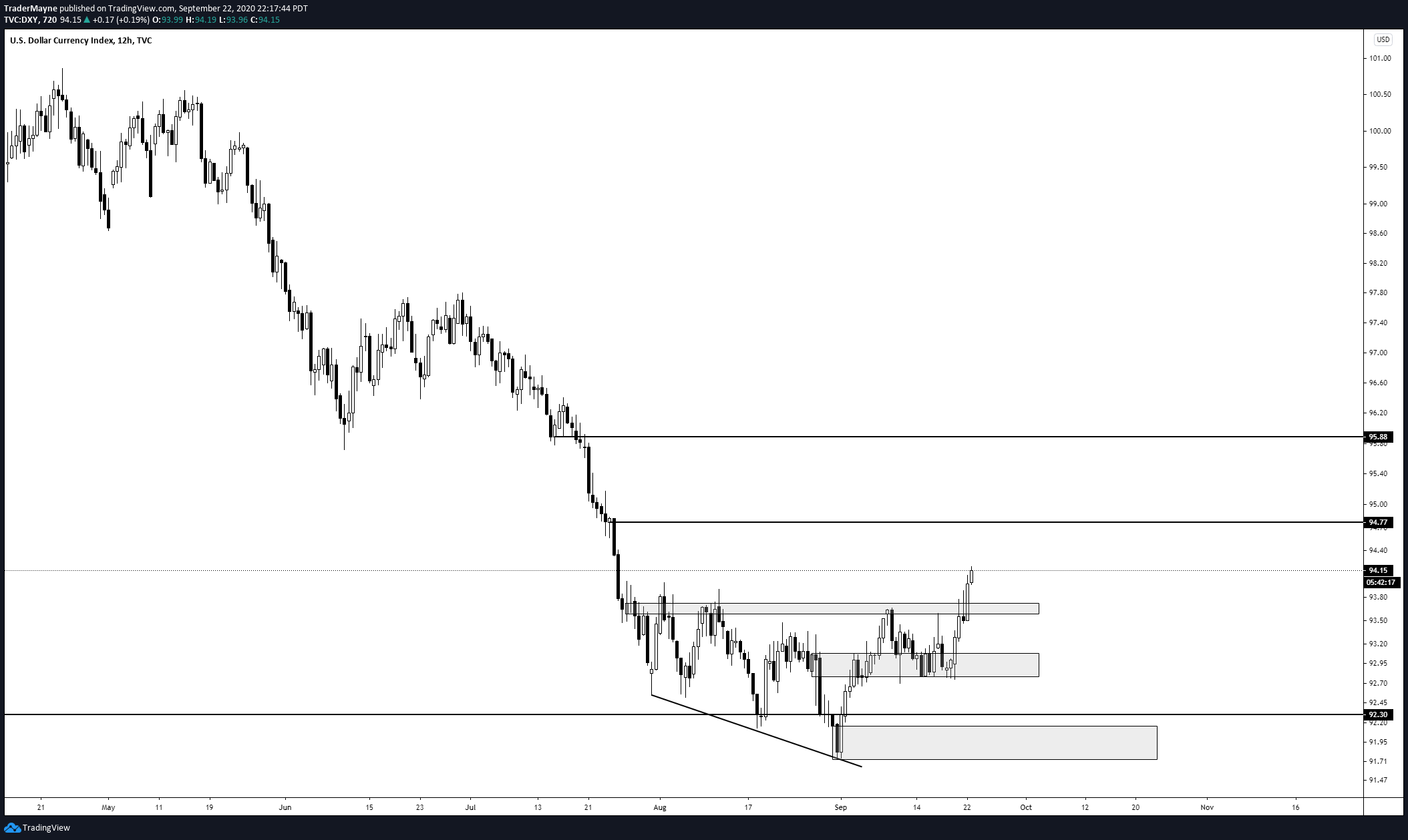 Chart of DXY's price action over the past few months with analysis by crypto trader Mayne (@Tradermayne on Twitter). Chart from TradingView.com
Uncertainity around the next fiscal or monetary stimulus injection could also boost the dollar.
Featured Image from Shutterstock
Price tags: xbtusd, btcusd, btcusdt, dxy, usd
Charts from TradingView.com
This US Dollar Fractal Predicts Bitcoin Is on the Verge of a Strong Surge