Bitcoin has once again flatlined.
After failing to surmount $9,500 this last week, the cryptocurrency has settled back down to the $9,200-9,300 region. Analysts remain divided over which way a breakout will take BTC, evidenced by the overall neutral funding rates on futures exchanges.
Chart of BTC's price action over the past few days from TradingView.com
Yet crucial order book data suggests that should Bitcoin fall, it will catch a bid on major exchanges. This is important for the bull case as it may confirm BTC has more strength to bounce than to fall.
There's Order Book Support for Bitcoin at $9,100
There's a block of buy orders in the $9,100-9,160 range that will slow bears from forcing BTC to break down, an analyst has found.
He shared the chart below, which shows that there's a multi-million-dollar buy wall from $9,080 to $9,150 on Binance. The buy wall is made up of over $8 million worth of Bitcoin.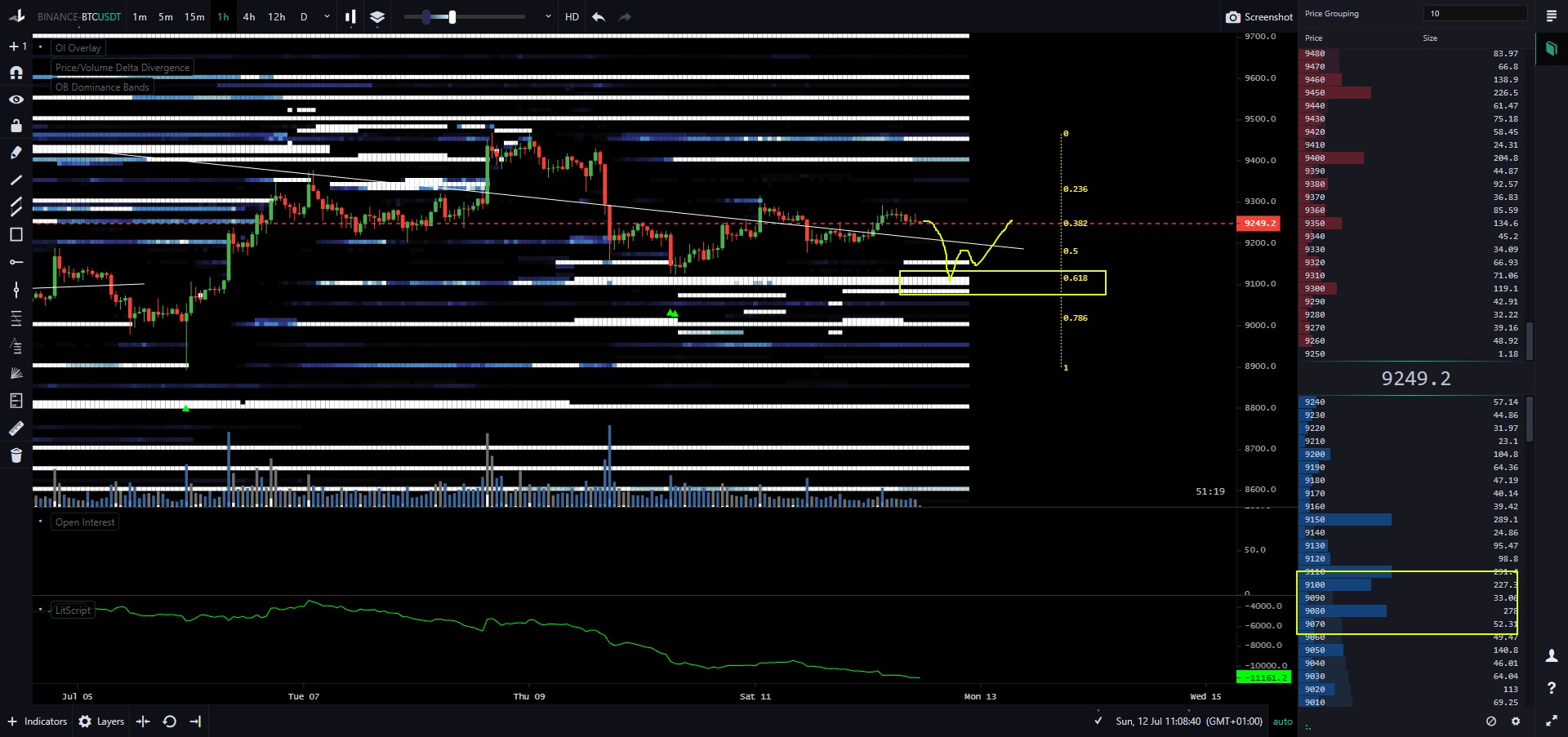 Price of BTC's price action + order book dominance bands indicator. Chart by Coiner-Yadox (@Yodaskk on Twitter); chart from LiteCharts.
The same analyst also shared a similar chart for BitMEX. Like the traders on Binance, BitMEX users have formed a strong buy wall for Bitcoin in the region around $9,100.
Notably, the $9,100 buy wall isn't as important on BitMEX as the exchange always has liquidity at almost all levels.
Referencing how Bitcoin could easily bounce off these buy walls in the coming future, then surge to the upside, the analyst said:
"PA looking like this would be pretty bullish to me Take the lows, into the 61.8 and closing above 9150 going into those blocks of buys."
Data shows that there's strong on-chain support below Bitcoin's current price as well.
As reported by NewsBTC previously, a trader found that per "Whale Map," there are clusters of "unspent" BTC from $8,200 to $9,200. "Big bubbles are usually pivotal levels," the trader who shared the chart below said on the data's significance.
Chart of BTC price + clusters of "unspent BTC" shared by trader "Byzantine General" (@ByzGeneral on Twitter).
Institutions Still Betting on Downside
In spite of this outlook, data shows that institutional players are still expecting Bitcoin to drop from here.
Cryptocurrency news aggregator "Unfolded" shared on July 12th that users of the CME deemed "institutions" are still net short 2,045 contracts.
This is important as institutional traders have been rather accurate in predicting historical declines.
Namely, prior to the drop in March, institutional traders had cumulatively built up a short of 2,000-2,800 contracts.
Featured Image from Shutterstock
Price tags: xbtusd, btcusd, btcusdt
Charts from TradingView.com
There's a Mutli-Million Dollar Buy Wall Stopping Bitcoin From Losing $9,100