It's been quite a boring month for Bitcoin. After plunging around $2,000 at the start of the month, the leading cryptocurrency has entered a tight consolidation range between $10,000 and $11,000, bouncing back and forth between those pivotal technical levels.
As of this article's writing, BTC trades for $10,700, at levels that some analysts have dubbed no man's land.
Here's a crucial level analysts are eyeing as Bitcoin nears the end of September. How the cryptocurrency interacts with that level is likely to decide Bitcoin's directionality moving forward.
Here's a Crucial Bitcoin Level a Top Analyst Is Eyeing
The end of September is rapidly approaching for Bitcoin. In just six days, the leading cryptocurrency's monthly candle will close. Due to the importance of this close, analysts are eyeing it closely.
Josh Rager, a crypto analyst and co-founder of BlockRoots, recently said that for him to be convinced of Bitcoin's bull trend, it should move above $10,760 on a monthly time frame.
$10,760 is where the cryptocurrency topped on a monthly basis during 2019's bull run, making it a crucial level to watch. Rager explained more on the matter:
"$BTC Bitcoin is not immune to traditional markets as it's been following quite close. But we're only a week away from monthly close and I'd love to see price move back up over $10,760 to end September. I think Bitcoin will be okay if SPX and DXY play nice."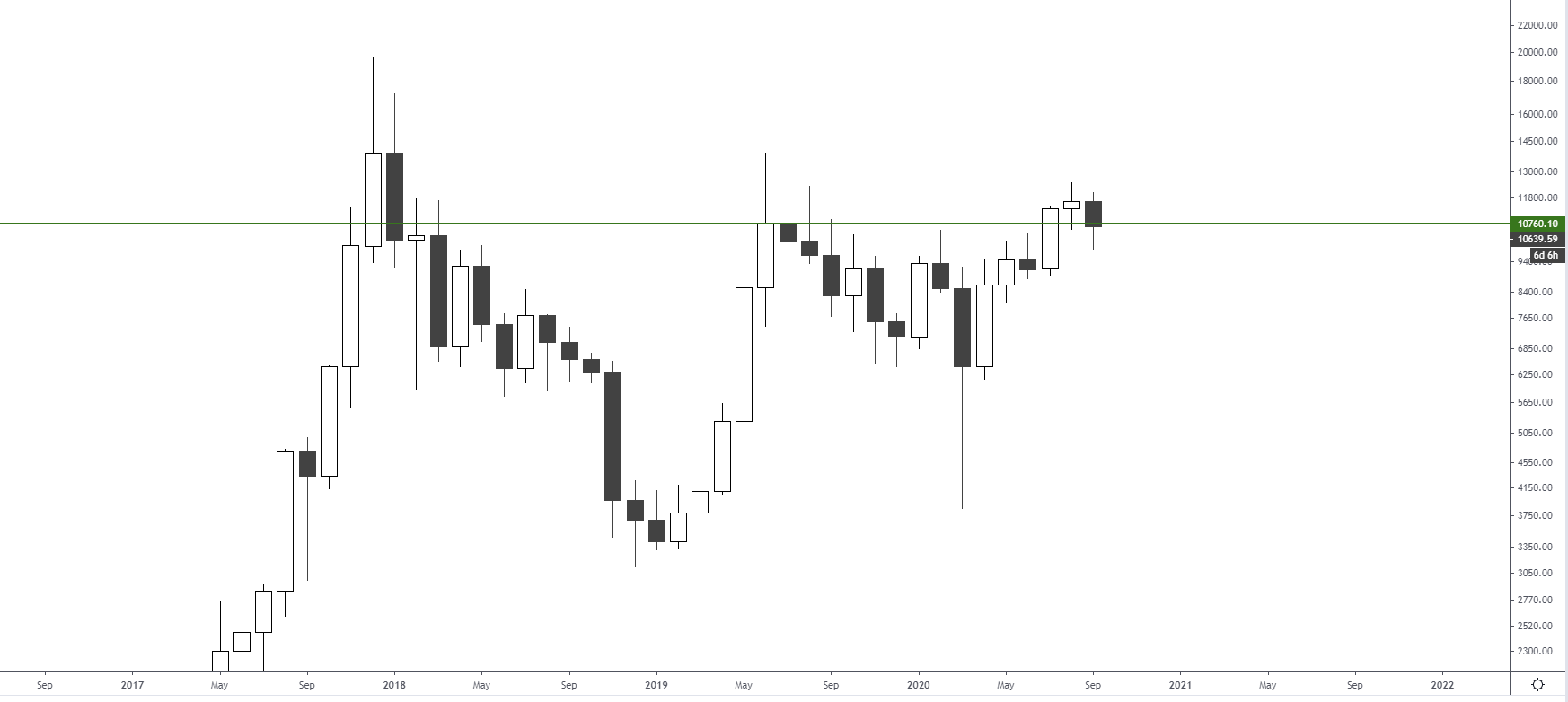 Chart of BTC's price action over the past three years with analysis by crypto trader Josh Rager (@Josh_Rager on Twitter). Chart from TradingView.com
Legacy Markets Could Throw BTC Out of Wack
Bitcoin's fate, though, may lie in the hands of the legacy market.
The S&P 500 and especially the U.S. Dollar Index (DXY) have strongly dictated BTC's price action over recent months. Case in point: BTC's high in August at $12,500 was put in when the U.S. dollar bounced from lows while the S&P 500 underwent a pullback.
This correlation suggests that even if Bitcoin manages to close above $10,760 on a monthly basis, weakness in the stock market could push the cryptocurrency lower.
Featured Image from Shutterstock
Price tags: xbtusd, btcusd, btcusdt
Charts from TradingView.com
The Pivotal Bitcoin Level Analysts Are Watching as End of September Nears