Bitcoin has collapsed under $9,000 for the umpteenth time in the past few weeks.
Minutes ago, the leading cryptocurrency slipped under $9,000 for the second time in the past week. As of the time of this article's writing, BTC trades for $8,960, having bounced $50 or so from the daily lows.
Bitcoin price chart from TradingView.com
Bitcoin slipping under $9,000 comes ahead of the weekly candle close and a few days after the monthly candle close.
Considering the timing of this drop, it may suggest that investors expect the S&P 500 and other global markets to open in the red. After all, the price of BTC has traded in tandem with the S&P 500 over recent months as global markets enter a period of uncertainty.
Bitcoin's Drop Under $9,000 Did Not Spur Massive Liquidations
The ongoing drop has not spurred a massive liquidation even thus far.
According to data shared by crypto derivatives tracker Skew.com, approximately $5.5 million worth of Bitcoin longs on BitMEX were liquidated in the past hour.
This may sound like a lot, but it's far below the dozens of millions worth of liquidations normally seen during drops to the downside.
The low level of liquidations can be attributed to the fact that Bitcoin barely moved from a macro perspective, falling a mere $100.
What Are Analysts Saying?
As Bitcoin's move below $9,000 took place just minutes ago, analysts are still reacting to it.
According to Blockroots founder Josh Rager, a move below $8,900 would spur a move to even lower levels. He stated last week in a separate analysis that Bitcoin losing the $8,900 support is likely to result to a drop to $8,500.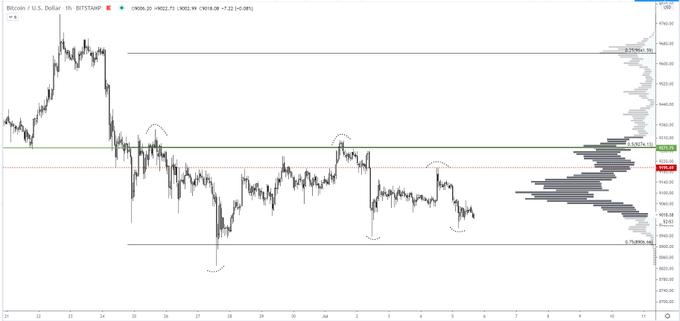 Bitcoin price chart from trader Josh Rager (@Josh_rager on Twitter). Chart from TradingView.com
Fortunately for bulls, the cryptocurrency has yet to lose that level. But considering that this move is still ongoing, it could happen.
Stepping back, others are more optimistic.
Mike McGlone, a senior commodity strategist at Bloomberg Intelligence, wrote on July 2nd:
"Volatility should continue declining as Bitcoin extends its transition to the crypto equivalent of gold from a highly speculative asset, yet we expect recent compression to be resolved via higher prices."
This came shortly after he released an extensive report indicating Bitcoin will head higher due to fundamentals.
#Bitcoin Blahs? Benchmark #Crypto Looked Similar Before Past Gains —
Volatility should continue declining as Bitcoin extends its transition to the crypto equivalent of gold from a highly speculative asset, yet we expect recent compression to be resolved via higher prices. pic.twitter.com/XbIMv5AYAf

— Mike McGlone (@mikemcglone11) July 2, 2020
Featured Image from Shutterstock
Price tags: xbtusd, btcusd, btcusdt
Chart from TradingView.com
Bitcoin Plunges Under $9,000: Here's What Analysts Are Saying