Despite a worsening pandemic, geopolitical turmoil, and more, Bitcoin and the S&P 500 have fended off secondary declines after March's liquidity crash.
At least for the time being, BTC holds above $9,000 and the leading stock index remains above 3,000 points. Both measures have held their respective levels for more than a month.
With the S&P 500 holding strong, Bitcoin also stands to rally.
S&P 500 Secures 3,000, Boosting Bitcoin Bull Case
In early June, the S&P 500 saw a strong rejection at what many saw as a key level: 3,200. That level was cited by many analysts on social and media and on certain mainstream media outlets as a level of importance.
Yet an analyst says that stepping back, the American equities market is seemingly still bullish.
Referencing the chart below, they wrote:
"Well that definitely surprised me. No major pullback and we have reclaimed our major resistance. This is bullish imo, not much else to say. We may pullback deeper into our (now) major support, but ultimately I think this level will hold and we will see new ATH soon."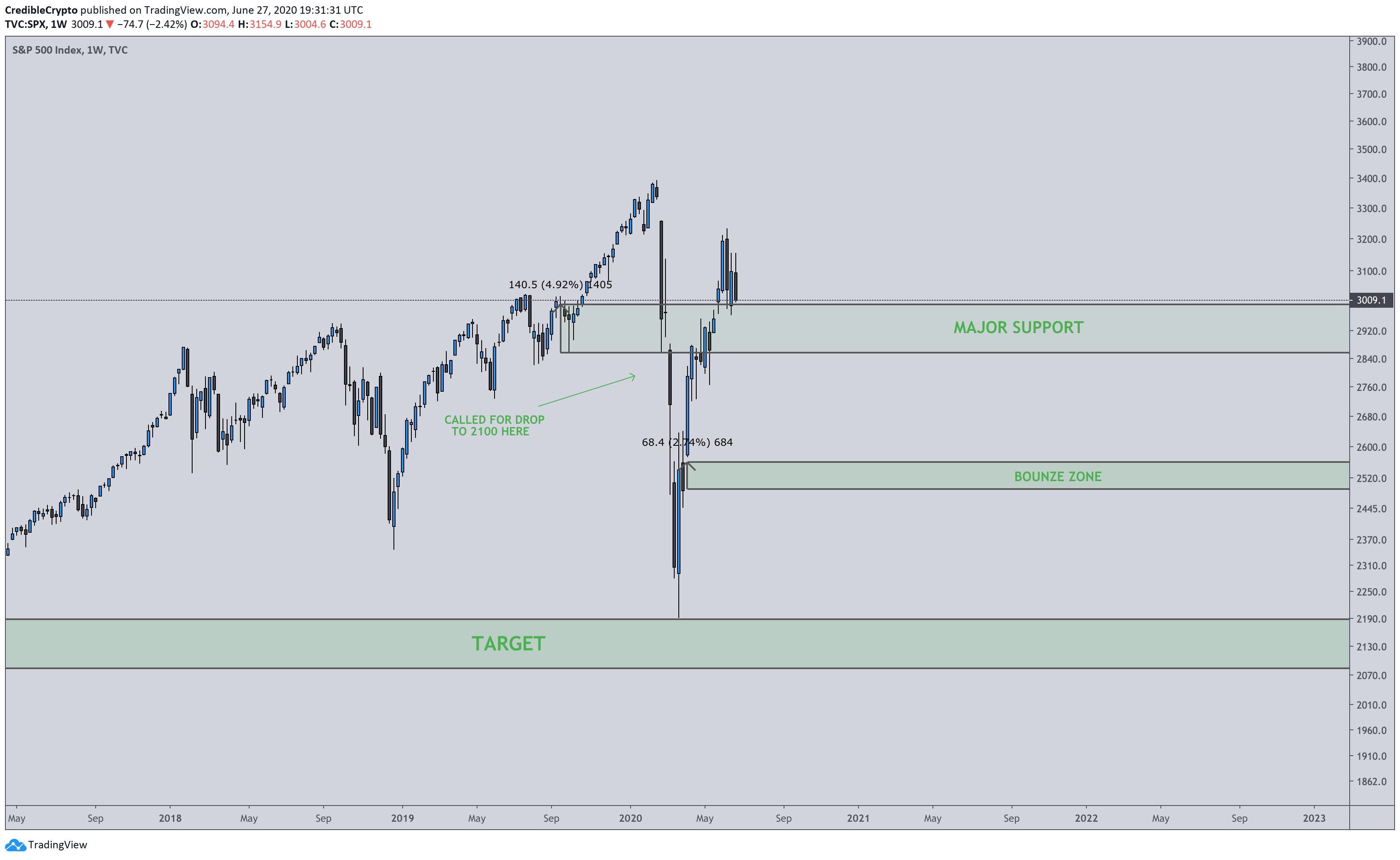 S&P 500 analysis by Bitcoin trader "Credible" (@CredibleCrypto/Crediblestocks on Twitter). Chart from TradingView.com
The analyst's sentiment is largely predicated on the fact that the 3,000 psychological and technical level remains intact.
Bitcoin will benefit if the S&P 500 rallies higher due to the correlation between these markets.
JP Morgan strategists observed that since March, "Cryptocurrencies have traded more like risky assets like equities—a significant change relative to the prior couple of years."
BitMEX's chief executive Arthur Hayes has observed a similar correlation, at least on the downside. In April, he wrote:
"Bitcoin will be owned unlevered. Could the price retest $3,000? Absolutely. As the SPX rolls over and tests 2,000 expect all asset classes to puke again."
Not Everyone Is Convinced
Although there is this sentiment, not everyone is convinced that the S&P 500 — and Bitcoin by extension — is on solid footing.
The chief investment officer at Minneapolis-based Leuthold Group recently said the following to Bloomberg on the potential for a 20% drop:
"The bulls could be proved right in that the March 23rd low holds, but you could lose a lot of money in a drawdown here… You could still very easily have a drop of 20% from the peak we made on June 8th. Very easily."
This is a sentiment that has been echoed by Scott Minerd, the global CIO of Guggenheim Investments. Minerd said in an interview that with stocks intrinsically overvalued while there are technical warning signs on the charts, the S&P 500 could drop off to 1,600.
With the S&P 500 and Bitcoin correlation holding strong, any collapse in the stock market may kickstart another BTC bear trend. But assuming the Federal Reserve's commitment to "unlimited" monetary easing continues, a drop could be rapidly reversed.
Featured Image from Shutterstock
Price tags: xbtusd, btcusd, btcusdt, spx 
Charts from TradingView.com
As S&P 500 Flips 3,000 Into Support, Bitcoin Could Benefit: Analyst