Bitcoin has seen a rapid rally over recent weeks from the $10,000 range to $16,000 as of this article's writing. The leading cryptocurrency is expected to move even higher in the weeks and months ahead as long-term trends are still positive.
Analysts are highlighting a confluence of technical and fundamental reasonings as to why BTC will likely move higher in the future.
Bitcoin to See Macro Bull Run as Key RSI Cross Happens
Analysts are eyeing a strong Bitcoin rally as key long-term technical trends show through.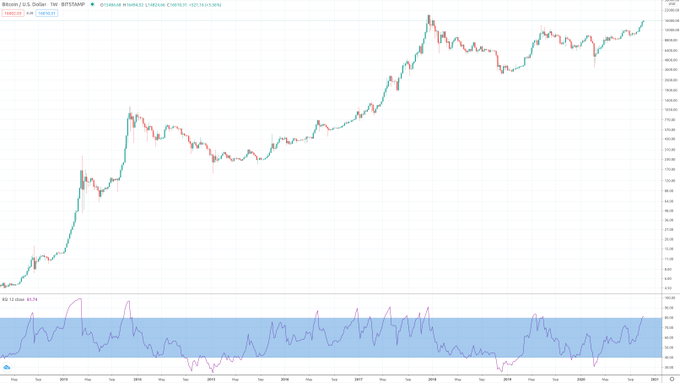 Chart of BTC's price action over the past decade with an analysis by crypto trader PlanB (@100trillionusd on Twitter). Source: BTCUSD from TradingView.com
Not the Only One
He's not the only one that thinks this is the case.
Josh Rager, a cryptocurrency trader, recently shared the chart seen below. It shows that Bitcoin is likely to rally 700-1,000% in the upcoming bull run as Bitcoin seems primed to set a new all-time high on a monthly basis:
"Every time BTC has closed above the previous monthly all-time high – a 700% to 1000% uptrend has followed. November could be the first monthly close that we see breaking the previous high and historically that's been a very bullish sign for the crypto market"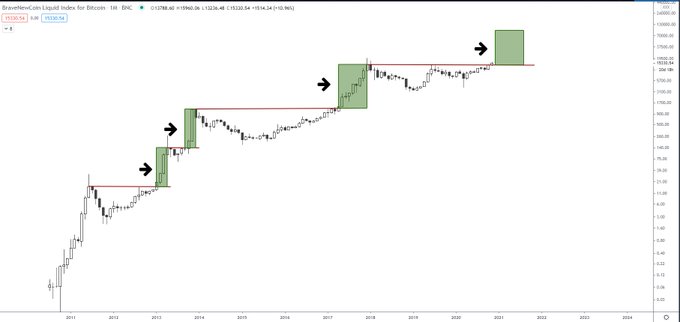 Chart of BTC's price action since the start of it trading with analysis by crypto trader Josh Rager (@Josh_Rager on Twitter).
Source: BTCUSD from TradingView.com
The devaluation of the U.S. dollar and a relative rally in Bitcoin against gold is expected to push prices higher.
Featured Image from Shutterstock
Price tags: xbtusd, btcusd, btcusdt
Charts from TradingView.com
Macro RSI Shows Bitcoin is on the Verge of a Massive Bull Run